Finally I have started with writing together with Kuthumi. He invited me already 3 years ago, but it took some time to get ready for me to actually do it.
The Combination Cora-Kuthumi loves to express artistcally, thus also in writing together.
---
One morning Kuthumi woke me up with a dream of a frog gliding down my bookshelves from high above. He was somewhat dressed like an Harlekin and had a lot of litttle bells in his hands. He then was dancing on the floor of my livingroom very happy and joyfully laughing.
'Ah, wasn't there a frog, that was thrown at the wall by a princess and in that moment turned into a beautiful prince…?'
All the way Kuthumi inspired me to let go of my fears about writing and to transform them. When creating the collage 'Dancing Frog' i was blessed with a dream, where bright Shooting stars sweeped across the sky, then more and more stars came in, joining together in an exstatic dance…wow, I captured it all in this painting!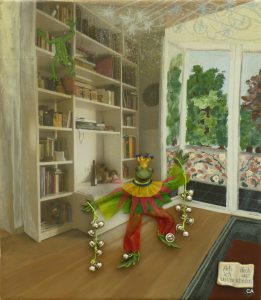 ---
This collage below I did in the joyeous preparation to our next book, that I will start to write with Kuthumi soon…it's at the moment in a state like drying laundy… The incandensent bulbs are arranged on a book, still with empty white pages, a bit like the YINYANG- symbol. On the pink and silver/gold shining background you see already a bit of writing of the content…oh, looking forward to creating it with Kuthumi!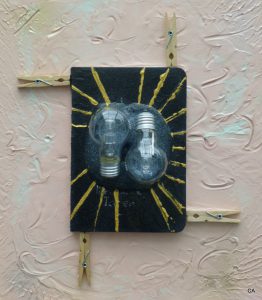 (Acrylic, book, bulbs and clothes pags on wood, 14×16 inches)
---
He inspired me to the two paintings below to give me a feeling on the sense of our writing contents. The undreesed left breast shows her opening her heart. The text of the first reads as follows:
'he says: you are so beautiful, I love you so much, this is the end of the war with what has past a long time ago, now everything begins anew, don't regret anything, come let us go dancing in the realm of the sun, where even the stars are revolve around us, the stamp of the laternis holding a poem, words of love, condensed light.' (the german word for 'condensed' is 'verdichtet', which also has the word 'dichten' for 'writing poetry' within it.(acrylic and paper on canvas, 15×18 inches)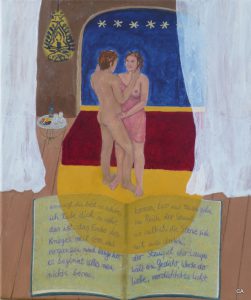 ---
'Words that come from silence carry LOVE', small rocks in hearts form arranged in lines like with writing…(acrylic on wood, 14×16 inches)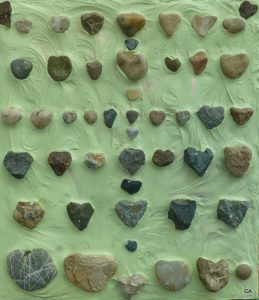 ---