Kuthumi is one of the Ascended Masters of the 'Crimson Coucil', the Angelic order of the White Brotherhood, that is helping humanity to become aware, that after 2000 years, the Christ- seed, Christ -consciousness, now is the time for IT to blossom. That is the real meaning of the returning of the Christ – the conscious awareness within every human being on the planet earth.
He had many incarnations on earth, during which he gathered his immense treasure of wisdom.
Some outstanding roles that he acted on the stage of humans history are the following:
The Egyptian Pharao Thutmosis III (1479-1425 B.C.)
The Egyptian Pharao Ramsess II (1279-1213 B.C.)
Pythagoras, the great Greek mathematician (ca. 500 B.C.)
Balthasar, one of the three magies of Zoroaster, that were searching to see the Christ -child
Francis of Assisi (1182-1226 A.C.)
Saint Martin de Porrres in Lima (1579-1639 A.C.)
Shah Jahan, that has built the Taj Mahal in India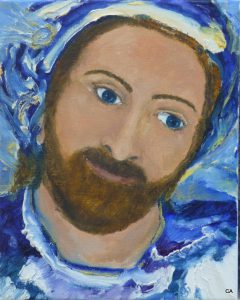 His last incarnation was in the nineteenth century as Kuthumi Lal Singh or also Koot Humi, an Indian prince, Kuthumi settled with his family in Kashmir.
Later he studied in Oxford around 1850 and travelled throughout Europe and the Middle East, before returning to India.
He has spent his last years in Tibet.
He is wellknown for his lightness, his humor and the simplicity of his wisdom, by which he conveys spiritual truths.
He loves to support humans in their creative expression and in their experience to realize 'Who Am I' in their core. He can help to activate and live the great potentials that lie inside, transform and integrate those aspects that stand in the way.
Further information about Kuthumi: