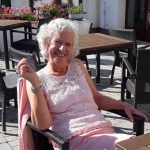 I was born in 1953 in Germany. I studied Fine Arts in Hamburg. After a very deep spiritual experience, when I was eighteen, my main interest was to find out 'Who Am I?'. I went into an Ashram, where I learned to meditate, practizing this and other ways to go inside since then.
I gave birth to four children, had my own Painting – School for children and adults from 1997-2011 in my house with beautiful ambience.
In 2008 I came across the Crimson Circle, listening with amazement to the channels of Tobias. Since then I am very happily walking along with Adamus Saint Germain and the other Ascended Masters from the Crimson Council.
I also feel very connected to Michael.
On the 6th of January 2012 I had my first Privat Session with Kuthumi Lal Singh, not yet knowing that he was one of the three Magi bringing Francincense to the Christ Child…
Since then our connection grew and soon Kuthumi asked me to channel him. Yet it almost took 2 years until I finally started to channel him in public, in privat sessions and groups.
I always loved to be creative, moving energies multidimensionally. Until now I did that mainly in my art, painting, sculpturing and with the singing during my 'ALIBRA- Performances' (see www.corakunst.de). Now a whole new area opens up to me with writing.
I enjoy so much Kuthumi coming in as an amazing muse sharing his inspiration, knowledge, warmth, humour and wisdom.
The melting of the Divine with the Human, the Female with the Male, the Dark with the Light lets the SOUL come in to experience life here on earth with us in the most sensual abundant way. This allows us to express ourselves freely in complete awareness of who we truely are and to live our Mastery.
**) About Channeling: The channeler tunes into the Spiritual Being, that he or she wants to channel, connects and  receives fully consciously the given messages. He or she functions in translating them like a interpret simultaneously into words for the audiance.